Dr. Steve Branson has had the very unique positioning of not only having walked alongside someone who was being challenged because of his faith but came to know also the people who we now know as the Christian baker, the Christian florist, the Atlanta Fire Chief, and so many others who have been challenged, sued, fired, and hated for being Christians. Who better to educate us on how to find courage in the midst of the storms so many of us are facing in today's world!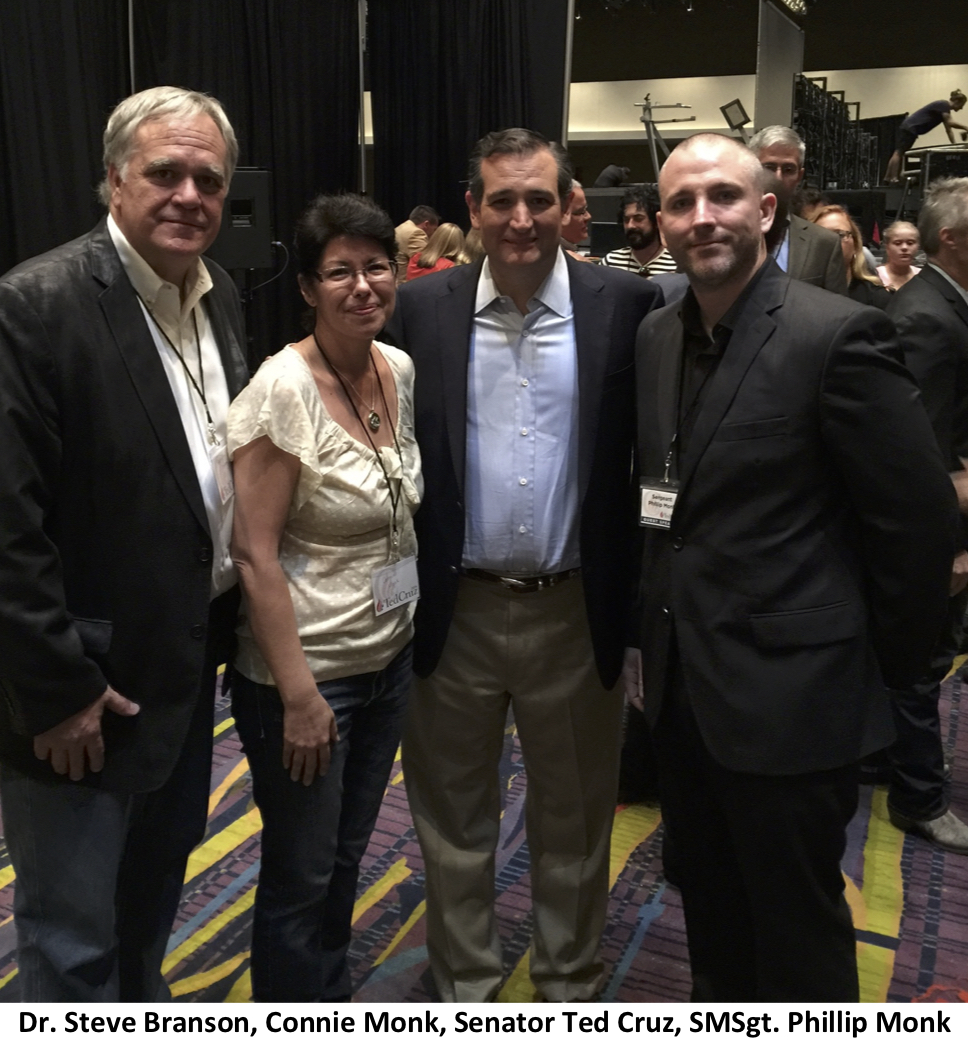 If you think our military has been uncorrupted by the demands of political correctness, you're wrong!
In 2013, when Pastor Steve Branson in San Antonio, Texas learned one of the members of his congregation, an Air Force sergeant, was being persecuted by his lesbian commander for being a Christian, he stood with him and fought against the depraved leadership that was violating the 19-year veteran's 1st Amendment religious rights. The battles they fought together were long, hard, expensive, and fraught with danger, but Steve, and now retired Senior Master Sergeant, and married father of two, won the war.
Dr. Branson's Village Parkway Baptist Church in San Antonio, Texas, is close to Lackland Air Force Base where the U.S. Air Force conducts all its basic training for new recruits, both enlisted and officer. He ministers to their temporal as well as their spiritual well being. Never did he imagine he would also have to support their legal and political needs.
As Americans we expect senior military officers in command positions to respect and protect the civil rights of all the people in their units. Sergeant Monk's case proved us wrong. He was threatened with not only the loss of his imminent retirement, but also with a Courts Martial and prison time unless he endorsed a lifestyle that went completely against his religious and cultural beliefs. His is but one of far-too-many stories of intimidation by those in positions of authority who have political and social agendas.
Dr. Branson received the Jonas Clark Award from Family Research Council in 2014 for his work in protecting SMSgt. Phillip Monk from the cultural battles that are taking place in the U.S. military. He has been a key pastoral leader in San Antonio in battling the city's cultural issues. His church has also been involved in medical and mission work in Costa Rica and Honduras for the last ten years.
Steve is currently the Chairman of the Board for the Life Choices Pregnancy Care Center in San Antonio and has seen over 2,000 babies saved from abortion in the last three years because of the ministry work at the pregnancy center.
In both 2004 and 2007 he was honored to speak at the Oxford Round Table at Oxford University. He is also working with the Havana Seminary in Havana, Cuba, training professors and their students in Biblical and Pastoral studies.
Dr. Branson will discuss their stories and others, the often shocking and disgraceful ordeals suffered by Christians who look to God's Word for insight and strength to stand firm as exemplars of the good news of Jesus Christ during these evil days.
About Steve Branson…
Dr. Steve R. Branson has been pastor of Village Parkway Baptist Church in San Antonio since 1994 and has been in the ministry for over 40 years. An adjunct professor for Southwestern Baptist Theological Seminary for the last 15 years, he was previously adjunct professor for Wayland Baptist University. He and his wife Jan have three children and eight grandchildren.